0
Sydney Mario Kart Wii Competition
Now, I planned to blog about the prizes for the competition but then thought, maybe it would be a good idea to win the competition first
= = =
What the hell are you smoking, you ask?
BEDTIME READING
.
So there were under-12s and over-12s competitions. I tried to enter the under-12s comp but for some reason they believe a 6'2" person can't be under 12. That's called discrimination, kids. About ten people arrived for the over-12s comp, so I was happy in knowing this thing would finish quickly... and I had more of a chance of winning.
These were the rules for the comp:
you had to use Mario
you had to use his standard vehicle (Standard Kart M?)
you had to race on Mario Circuit
you could only use the Wii Wheel
drifting was set to Automatic
Okay, I was fine with the first and third points, but racing in a car? I always use bikes because I feel the handling on cars is too sluggish. Wii Wheel only? Grr, one, I'm a Nunchuk man, and two, at least let me take the Remote
out
of the Wheel! Nope. No offence to you Wii Wheel-only peeps, you're
aaal
right. And drifting on Automatic? But but, then I don't have complete control over the car!
Extremely worried, and certain that I would fail miserably, I had my (first!) go at the Time Trials. Now I think I've said this before: I haven't played my Wii in months as we're renovating and it's packed away. And Nintendo didn't tell us the course we would be playing on or any of the above rules until the day, so I was completely unprepared.
Thank goodness for being able to watch the other competitors' runs. At first I was worried about taking the ramp shortcut because (a) I wasn't sure that flicking the Wii Wheel up would actually do a trick and give me that crucial speed boost upon landing in the sand (I use the Nunchuk remember!) and (b) only one person tried it before me on their first run and when
they
flicked, it didn't do a trick (they must've mis-timed it or something).
So on my first go, I avoided the ramp and focused on trying to stick as close to the inside line as possible. Unfortunately, the erratic automatic drifting caused me to veer into grass at some corners, costing me precious seconds. Not only that, but I'd misread the Chain Chomp's movements a couple of times and crashed into him (or her). In the end, I finished at 1:46.915, with the current leader at 1:41.367.
I didn't know we would have more than one go, so I didn't quite die inside. By my second go, I re-learnt how to avoid the Chain Chomp on each lap, but I knew that to beat the leader, I had to use the ramp shortcut on all three laps. This time, my kart went on grass only once, and I successfully did a trick on the first lap. However, after the landing, I hit the wall at the tunnel entrance. Because of that, I felt I had to use another Mushroom Boost to recover, and
that
meant I had to forgo the ramp for one of the other laps. My time after the second run was 1:41.510, but now there was a new best time of 1:41.129, held by a little kid not older than 13.
Ooh
, little kids in tournaments are
so
nasty and unpredictable!
We pleaded (or, rather, asked) the Nintendo staff to give us one more go; after all, there were only
two hours
left till the event ended. They obliged. On my third go, I stayed on the road, pull off the tricks on all three laps and destroyed (read:
improved
) on the little kid's time at 1:39.786. I won the comp. I'd never won a comp during a Nintendo event before so I was over the moon.
And just for you, I've taken photos of the prizes.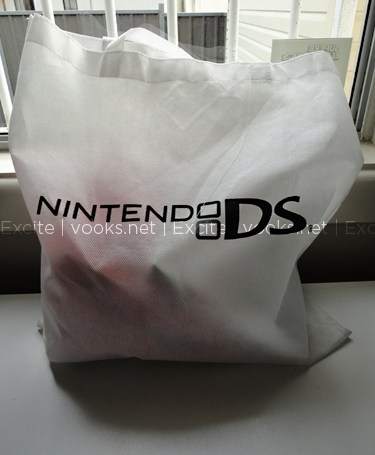 I was given the prize (or prizes I should say) in this Nintendo enviro bag - I seem to be collecting them!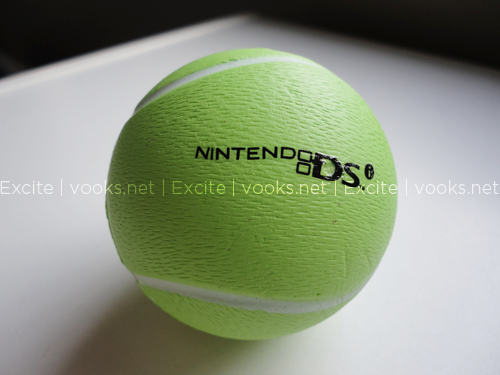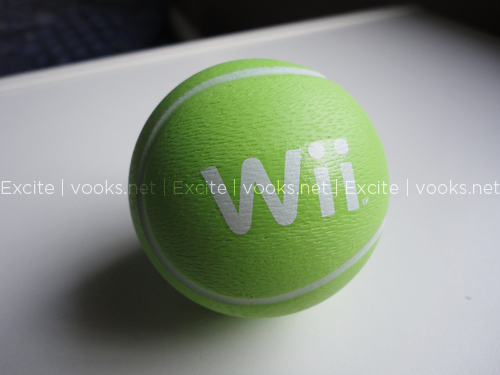 First item, a stress ball. I should have had one once I heard the rules for the comp...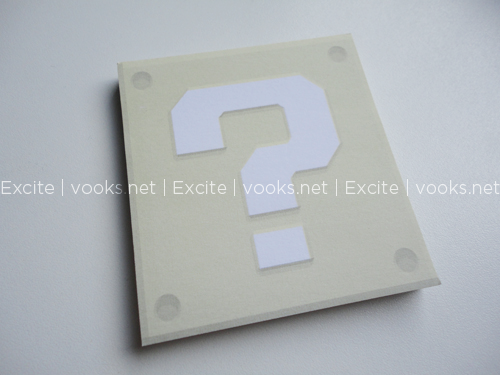 "? Block?" Post-its, I'M ALL SET
That reminds me, how do you say "? Block" in speech? Let me know in the comments.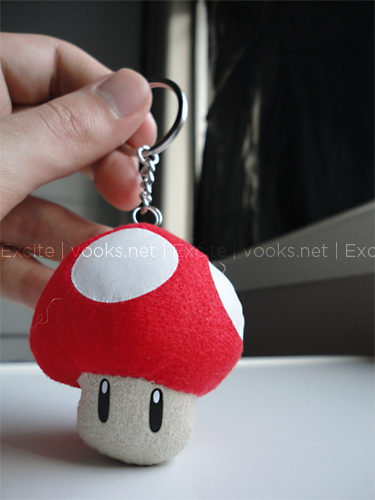 A mushroom keychain. Think of all the different keys you could attach to it, the possiblities are endless!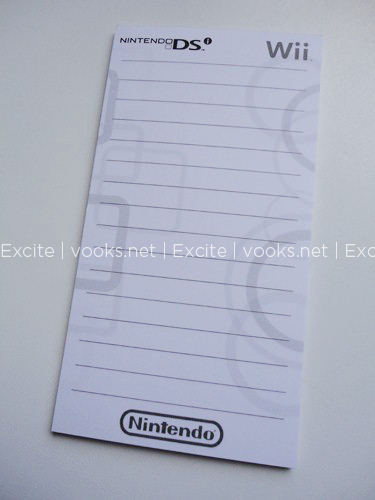 Another notepad, this time with the Wii and DS logos
Guess what Nintendo? I'm gonna write something
not
related to Nintendo on it, what are
you
gonna do?
Oh I am so naughty...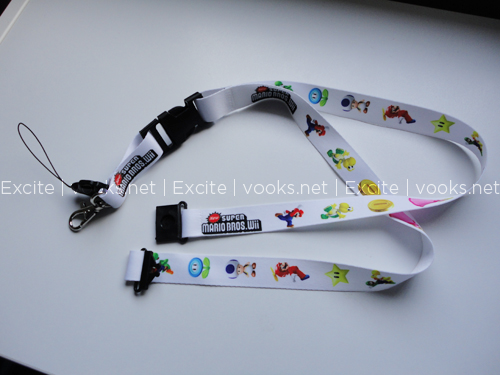 Ah, the trusty lanyard, a staple giveaway at Nintendo events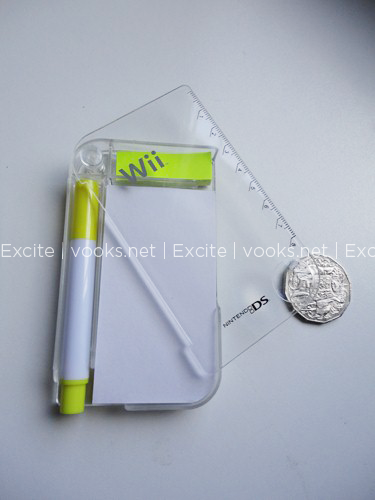 OMG, another notepad... set.
It's got a built-in ruler and
everything
. Oh I sure hope they give me some sort of novelty-sized Nintendo pen to write on it with...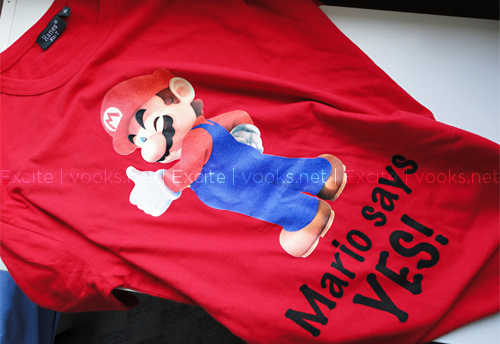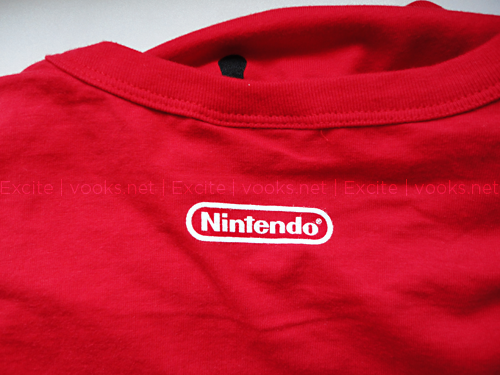 A lovely red shirt. The XL size is a bit big for me but I don't blame Nintendo
I wonder what Mario is saying "yes!" to. Whatever it is, it's obviously uber-cool and out of this world! Also, note to self, wear whenever there's a referendum.
Super awesome shoelaces with Mario logos on them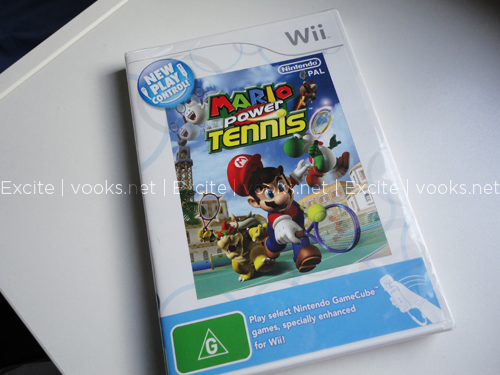 Relief: a Mario game I don't have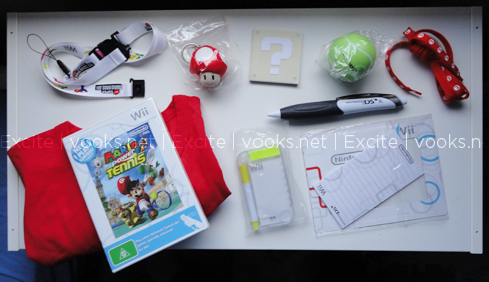 And that's it. Thanks to Nintendo for running the comp and for the prizes.