0
Photos from the History of Super Mario Bros. Tour
Posted by
Excite
, in
Events
22 September 2010 · 4,185 views
snes
nes
parramatta
sydney
events
tour
super mario bros
history
n64
wii
retro
"History of Super Mario Bros. tour? Say whaaaa?" I hear you say? If you live outside Victoria, New South Wales and Queensland, you're forgiven as the tour didn't, and won't be, coming to a location near you. Truth hurts, doesn't it? The most logical excuse for it is that Nintendo could only afford one tank of fuel for the van, and hypermiling can only get you so far. Amirite?
= = =
Yesterday the travelling van stopped at Parramatta NSW (close to me!), so I went to see what all the fuss was about.
The thing I love about going to Nintendo's events (and any other place for the first time for that matter) is trying to imagine what the place is going to look like and then going there to find out I was way off. Way off like... erm, like uh... like the completion of vital transport projects in western Sydney. Yes,
that's
a good simile. Such was the case yesterday when I expected to see a
huge red van
, with the retro Nintendo consoles set up
inside
this huge red van.
So what was actually there? Let's see. Retro consoles? Check. Handhelds? Check. Nintendo signage? Check. Attractive female staff? Check. Big arse van? Not quite.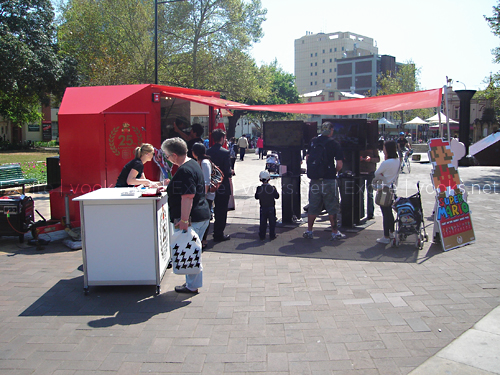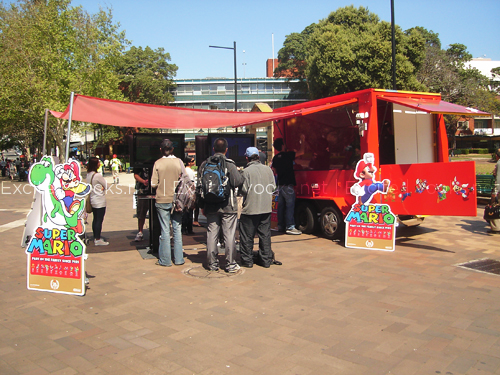 As you can see, the huge red van was actually a little red
cara
van. A canvas was extended from one side and the retro consoles were set up under it. When I arrived, I went straight to the NES to get my overdue injection of old-school Super Mario.
The NES and SNES in all their glory
The NES had Super Mario Bros., duh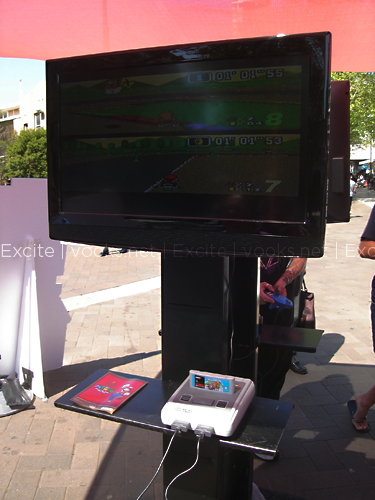 The SNES had Super Mario Kart. C'mon guys, at least set the screen size to 4:3
I was disappointed that the systems were set up under broad daylight because the screens suffered from major glare, making it difficult to see the gameplay.
Also on hand were the Nintendo 64 and the Wii. As much as I didn't want to play the Wii, I couldn't resist as I haven't played it since the Connection Tour (I've packed mine away as we've been renovating).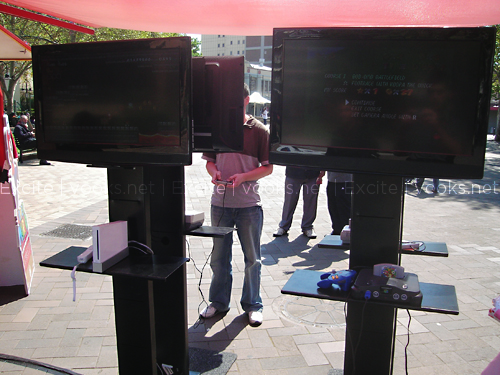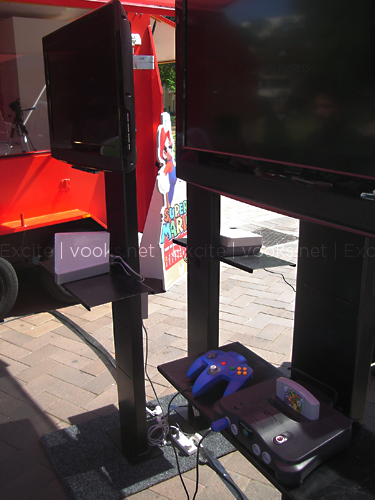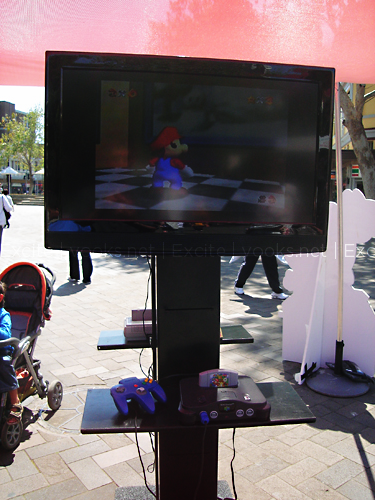 The N64 had Super Mario 64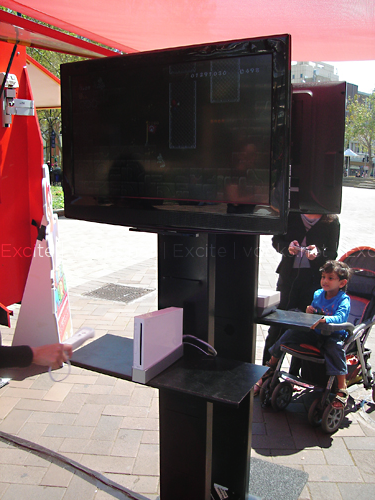 And the Wii had New Super Mario Bros. Wii. I was playing co-op with a little Asian boy at one point, and after a while he died while I had ten lives so I just gave my controller to him and moved on
Now the "van" itself. Inside was where you could record your preciousssss Mario memory to go up on the Super Mario 25th Anniversary site. Conveniently there was a window on one side so that passers-by could pull faces and make you laugh during your recording.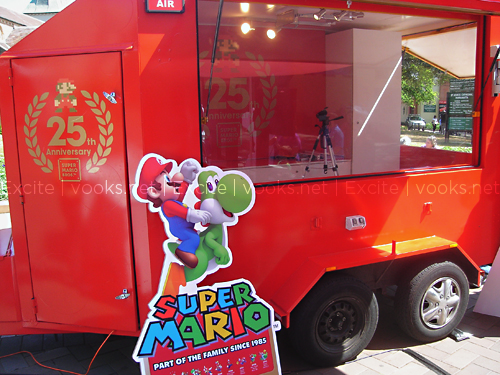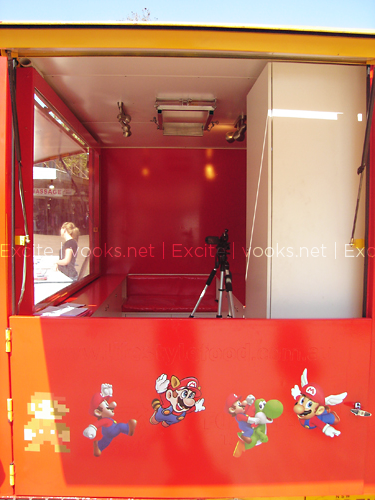 And what would a Mario history tour be without the handheld games? Wanting to be discovered were some descendants of the Game Boy ancestry (original; Advance; Advance SP; Micro) and their progeny, the DS family (DS Lite; DSi; DSi XL). Phat unfortunately passed away at E3 2006.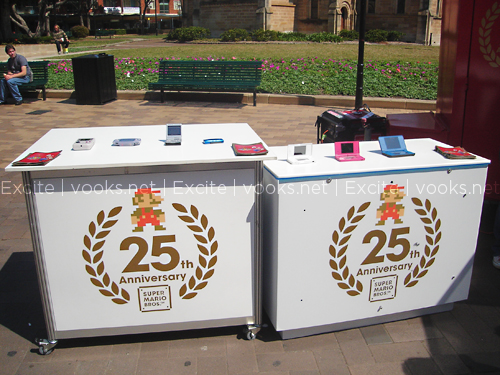 Left to right: GB (Super Mario Land), GBA (Mario Kart: Super Circuit), GBA SP (Super Mario World: Super Mario Advance 2), GB Micro (unplayable)
Left to right: DS Lite (New Super Mario Bros.), DSi (Mario Kart DS), DSi XL (New Super Mario Bros.)
I stupidly didn't notice that the DSi XL was an unreleased blue-coloured one so I didn't play it. I should also mention that because the sun was out that day, it became uncomfortable standing around, especially when the canvas provided sh!t all shade. Also while I was playing the handhelds, I was blinded by the bright white table. Though when I passed by the area a couple of hours later, they put up a Nintendo DS marquee over it.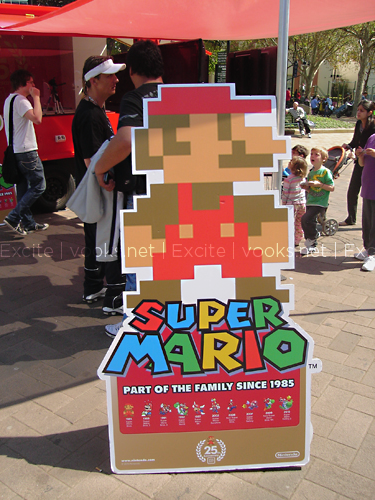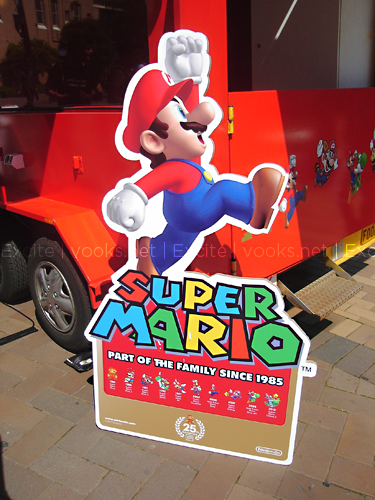 So there you go. I had a good time at this mini tour but nothing beats the atmosphere of a full-blown Connection Tour. In saying that, mini tours are perfect for trying out those games that come out
after
the Connection Tours, like the current
Wii Party
tour. It would be nice if they have ones for maybe
Donkey Kong Country Returns
,
Kirby's Epic Yarn
or even the
3DS
. Ay? Ay?
On a side note, some adults who were having fun playing the NES and SNES asked where they could buy the consoles, and of course the Nintendo staff said they didn't sell them anymore. But I knew better - it turns out that a new Gametraders store opened
just the day before
and it was literally
one minute's walk
from the van
I bought a
couple of things
from there BTW.
That's it from me, I'm outta here.