0
Photos, videos and more from the National Coin Challenge finals
Posted by
Excite
, in
Events
07 August 2010 · 2,576 views
new super mario bros
coin battle
coin challenge
finals
sydney
connection tour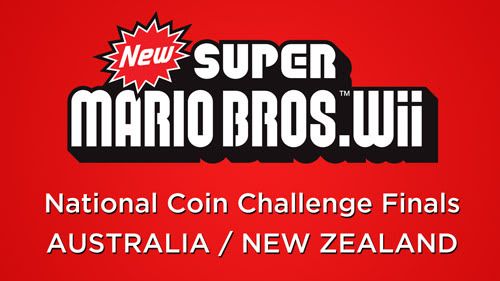 Better late than never. That is better, right?

I'm not sure if it's because I'm not a morning person, or because I've become lazy, but getting up at 7am to go somewhere didn't seem that hard when I had to go to school. On July 28, that "somewhere" was the National Coin Challenge finals in the Sydney CBD and, determined to cover the event for the site, I got ready and caught a train to the city, albeit constantly yawning.


The Sydney Mint aka some random place, destination for the national finals


So I arrived at Sydney Mint on a rainy day and walked up to the front entrance where I was greeted by an old man and lady (you can just see them in the pic above). "Nintendo?" they asked, feebly. "YES," I demanded. Cringing, they showed me to the area where the event was being held. I turned a corner and saw some of the state winners (including some familiar faces) waiting to enter the room for the finals.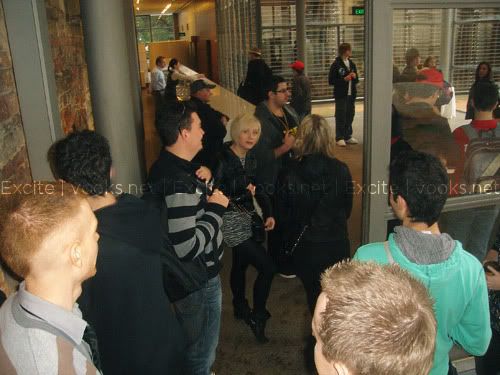 Challenge hopefuls line up to get their name tags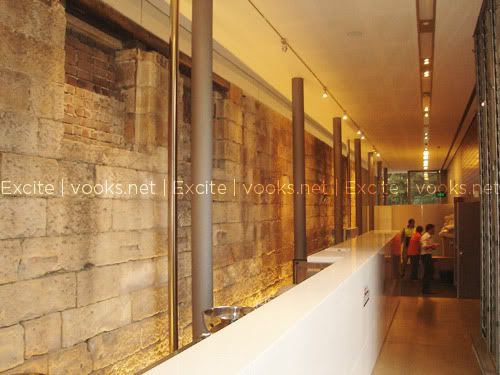 This long corridor is intended as a metaphor for the state winners' journey from relative obscurity to potential fame, or not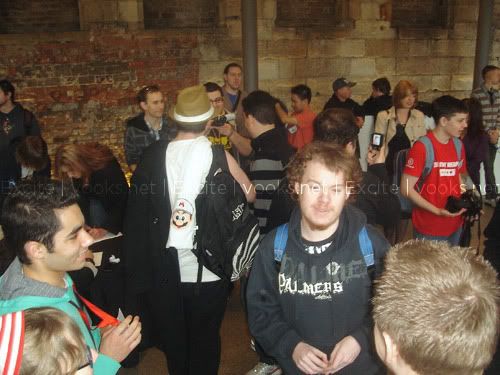 Waiting for the last few state winners to arrive. The national winners may or may not be in this photo, oooooh





Free water for those of us who were working up a sweat from standing around


More and more winners rolled in as the minutes passed – some were greeted with cheers as if they were our Olympians returning home. Once almost everyone had arrived (one person was sick or something), we heard a loud whistle and proceeded to follow Jamie into the room where the finals would be played – cheers ensued. The room had a large glass window across one side, overlooking a courtyard. The opposite wall housed the
Mario Bros. Wii
stage, with two more Wii stations on either side to allow for simultaneous matches. To set the scene, cut-outs of character artwork from the game were scattered near the walls and Star Coins hung from the ceiling.


Just for you, a rather lazy faux-panorama of the room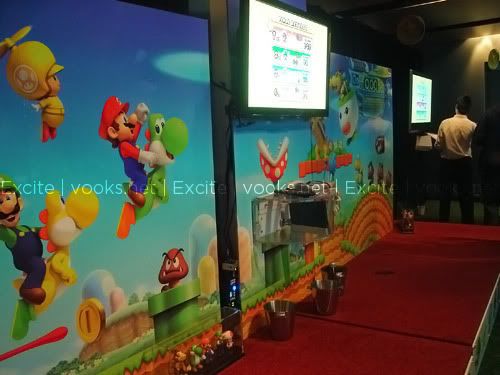 The all-too-familiar Mario Bros. Wii stage returns for one final show


Interesting caption

Jamie encouraged everyone to start practising before the real competition began.
Slaves
wait staff then began roaming the room offering drinks and hors d'oeuvres, which was good because there wasn't really any time to duck out for food. After a good twenty minutes, Jamie called us over to a whiteboard (on which was the competition leaderboard) and explained how the matches would be set out.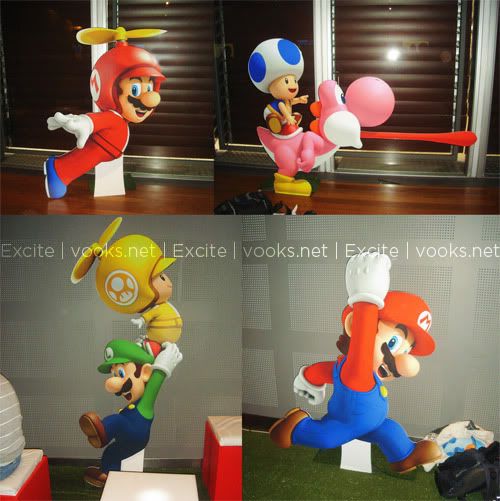 A hole in the space-time continuum: two Marios in the same room! O.o





Some people move around REALLY quickly



DO WANT. Seats for players waiting for their turn. Or parents who like to hog them. That table in the middle is actually lit up from underneath


First, there was going to be a "Round of Five" - a round-robin tournament, where each competitor would play five matches, once on each of the five levels used in the Connection Tour. At the end of a match, players would be awarded points based on their ranking – 4 points for winning, 3 points for second place, 2 for third and 1 for last. Points for tag teams were a total of the individual players' points, so the aim for tag team players this time was for
both
people to get as many coins as possible. Competitors' points after the five matches would then be added up to determine rankings, and the top 8 players/teams advanced to the finals.


Has everyone forgotten how to play? Look how they're holding the controllers!





Yes, yes, that's how you play: with GIRLS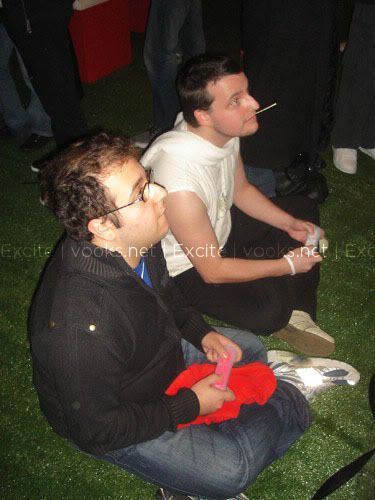 Sitting down, one of the many strategies used by players

Due to the nature of the finals, rankings in the Round of Five were crucial because the better an individual/team performed, the better their chances of proceeding through the finals. The individual finals used a
page playoff
-like system, where the top two placed winners of the first qualifying final advanced directly to the grand final. The tag team finals used an
AFL finals system
, and the rules for those matches reverted to Connection Tour rules – the winning team being the one that had the winning player. Capiche?


Something to remind us where we were, it would have been awesome if the finals were played on this screen


Who will win? This Magic Rotating Board should tell us...

As always, watching the matches was just as fun as playing. Shouting "AWWWW!!!" and "YEEEAH!!!" with the crowd as we watched some
really
fantastic matches made for a great atmosphere, which I felt privileged to be a part of.


Jamie tries to sabotage the event by rubbing out someone's name

Throughout the day, there was a Japanese-looking, and (I'm assuming) Japanese-speaking, man and woman who walked around with a video camera, having chats with random people and filming the matches. I suppose this was for the Nintendo Channel though I haven't looked at that yet. I also armed my self with a video camera on the day, filmed all the action for you guys, and put together this here video. Enjoy.
About the video: the video took me all of two weeks to complete, hence why this write-up has taken so long to go up. I was reduced to using Movie Maker, which gave me woes come publishing time. Then I realised YouTube has a 15-minute limit on videos...
anyway, here it is, split into three parts. Apologies for the low lighting, the place was a nightmare to shoot in. Also, the footage wasn't actually shot in 720p – you'll only notice a quality difference in the titles – so 480p or below is the way to go.

Part 1

http://www.youtube.com/watch?v=AWtmUADMdSU


Part 2

http://www.youtube.com/watch?v=A64WjRe0QKs
Part 3

http://www.youtube.com/watch?v=Cqgd5aiQ8j4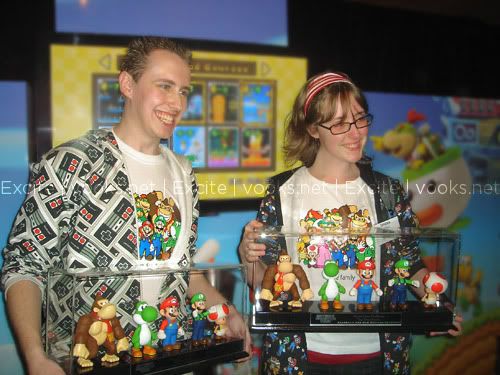 "Dare Devils" Andrew and Sandra Dare take out the tag-team championship and are nothing short of elated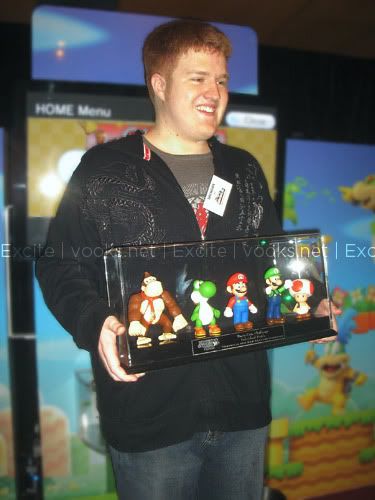 You know what kind of smile that is? That's an I've-won-a-trip-to-New-York kind of smile, well done Brendan!
(In case you didn't know, Brendan is actually our very own forum member ShadowLizard, so if you see him around, why not congratulate him?)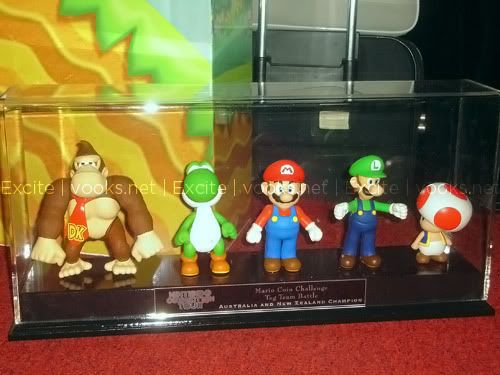 Trophy close-up. Figurines: 'bout $80. Black stand: priceless

After the finals, I pulled the champions aside for a quick chat about their wins:
Congratulations, you've just won the National Finals, how are you feeling right now?BR:
I still can't believe it. The day was perfect, Nintendo has really put in the extra effort with this tour and winning was the perfect end to a great day. I feel bad for the others who just missed out, but of course I am really happy with the result.
AD/SD:
Ooh
yeah, very excited
, excited yeah... it was hard though
yeah
.
How did you find that last level and your competition this time around?BR:
Um, that first coin was tough and hard to get, but yeah I think I just smashed it and, yeah, it was pretty good from there.
AD/SD:
Ah, Andrew dominated in that one
, we actually like the ice level (laughs),
that's true, yeah, that's one of his favourites so, yeah, he dominated in that one
.
Was there a moment during the match when you realised you may have had enough coins and won?BR:
I felt it was pretty close the whole way through. After snagging the third large coin and exiting the ghost house for the final stretch, I was confident I had just done enough to win.
AD/SD:
Since practicing all of the five levels for so long, you know where the most coins are to collect and how to get them, the problem and task is trying not to let nerves interfere with what you've learnt. This actually showed in the match, if you watched my actions where I tried to slide as Penguin Mario, I instead did a butt-stomp and then lost that power-up...
How much did you practise for this both before today and before the Tour?BR:
Every day (laughs), every day.
AD/SD:
A hell of a lot actually
, yeah,
a hell of a lot
. Ever since we heard it was on, ah, we didn't even know about the Coin Battle before we heard about it
yeah
um, we played the single-player and blitzed that together but um, yeah, we didn't know about the Coin Battle so we practised as much as we could,
yep
.


"champions.jpg" – need I say more?

Was there anyone who helped you practise?BR:
A lot of Vooks members actually. NinjaDead was my main wing man who was constantly over to practice. Toshiya, Playa and ShadowStriker also helped out during some fun gaming nights.
Will this be your first time going to New York, even to the USA?BR:
I've never been out of Australia, so yeah.
AD/SD:
It will, yeah
. We've been to the US before so,
we've been to Florida
but we haven't been to New York.
So who are you guys going to take?BR:
Both my brother and dad wanted the ticket, but in the end my dad conceded and so I'll be going with my older bro who I am sure will be pretty happy as well.
AD/SD:
Each other (laughs)
yeah...
oh, well if it's
... do we only get... oh we're not really sure... we have to find out what's going on with that.
(We have since found out that the winners will spend five nights at a three-star hotel, and can take the trip at any time before the end of July next year)
Now you've also won $1000 to spend at the Nintendo World Store – do you know what you're going to get?BR:
Probably, plushies, plushies and plushies. Wii games won't work, so maybe DS games...
AD/SD:
Ah yeah, I'm gonna look at getting plushies and t-shirts (laughs)
and ah, well, because of the region difficulties with, um, Wii games and stuff like that, you can't really buy much in terms of games but, yeah, any merchandise, and with Nintendo they have quite a bit, so... it's hard to find good merchandise over here, so, that's the Nintendo store and, yeah, they'll have the best stuff.


Australia's elite playing the game at the same time, I'm surprised the Wii didn't explode




The staff take over while waiting for us to rack off





The winners, and some Aussie-Nintendo folk, hang around for a bit





I craftily sneak into a final photo with the winners and the A-N clan
(This photo was from A-N member Clash's Facebook page – hope it's okay that I used it!)



Congratulations once again to not only the winners, but also to all of you around Australia (and New Zealand) who competed in shopping centres and made this year's Tour one of the most enjoyable and memorable ever. The rest of us may not have won the competition, but I personally had so much more fun cheering others on amongst guys like those above than playing the matches.

These Connection Tours are made possible by all of you who love playing Nintendo games, so keep playing, and we'll see you next year.